Short films and interactive discussion
Followed by a Q&A with Gerry Fialka, moderated by SCA Professor David James
7:00 P.M. on Thursday, January 17th, 2013

The Ray Stark Family Theatre
George Lucas Building, SCA 108
900 W. 34th Street, Los Angeles, CA 90007

FREE ADMISSION. OPEN TO THE PUBLIC.
"Gerry Fialka is a cultural revolutionary." - Michael Simmons, LA Weekly
"The multi-media Renaissance man" - LA Times
"(Fialka is a) Los Angeles-based independent media hero."- Holly Willis, RES Magazine
"I am very impressed by Gerry Fialka's energy in bringing together groups of people to think about ideas. That is very much in the McLuhan spirit to create and foster interdisciplinary, living, educational projects in which people can talk about ideas. He creates forums that bring together a plurality of critical perspectives into one multivalent conversation. " - Janine Marchessault, author of Marshall McLuhan: Cosmic Media and Fluid Screens, Expanded Cinema.
"To a scavenger artist/media ecologist such as this longhaired pixie,…creations represent an opportunity to create again." – Hank Rosenfeld, LA Times article "McLuhan's Minion"
"I am inspired and excited that Gerry Fialka, who holds an affinity for the Ann Arbor Film Festival, is writing a history of it. Having attended many of his workshops, I can testify he is intimate with experimental cinema and media philosophy, and is deeply dedicated to the exploration of new knowledge. " - Leslie Raymond, Professor of Art & New Media, University of Texas.
"Gerry Fialka's Pixelvision: Electronic Folk Art As McLuhan is deeply thoughtful and very well planned. This presentation offered an enormous range of ideas and references. His ideas are well integrated and clearly stimulated critical thinking in new ways. I especially appreciate the way he involved the all forty plus students, something rarely achieved in the course of a full semester let alone during one evening. His selection of video pieces is expertly planned, both in terms of variety and in its length within the context of the larger presentation. The evening succeeded in being both a primer on the value and history of Pixelvision but also positioned it within a philosophical framework that gives it far more meaning than the work could have had on its own." - Steve Anker, Dean of Film and Video, California Institute of the Arts (CAL ARTS)
"Gerry Fialka's energized exercise in creative brainstorming AND critical thinking opens up an interactive space beyond the rote drills of required readings in the college classroom. With good humor and puns aplenty, he posits the daunting media matrix of word, sound, and image as something more like a jungle gym, and then generously invites all to climb on and play the McLuhanesque game of pattern-recognition." - Craig Baldwin
"Upon leaving Gerry Fialka's Ann Arbor Film Festival Pioneers Workshop my first thought was: where do I go to sign up for another, because one is definitely not enough. This guy has a brain that interests me and a generosity of method that is rare as well as fecund. I watched him coax a room full of people in folding chairs into an intellectual group dynamic that showed just what the Socratic method can yield when led by a skillful master of ceremonies. Intellectual confluences of the widest description were entered into and all participants were not only invited along for the ride but also invited to have their say. I learned a lot. Gerry Fialka: that rarest of species, an original, non-institutionally-based intellect –a thinker whose natural predilections lead him to a connecting of the dots wherein both the dots and the connecting of the dots are illuminations of the unexpected and unconsidered. He makes his own way and invites you along for the ride. Before you know it, he'll even give you a turn at the wheel." - Fred Worden, award winning experimental filmmaker and Professor of Visual Arts, University of Maryland
"McLuhan talks about media as extensions of our sense organs, and that's precisely what a workshop with Gerry Fialka is like. Gerry extends and enhances our ability to perceive the world. Did I also mention that Gerry is a hell of a lot of fun?" - Award-winning filmmaker Bill Brown
"Gerry Fialka provides an insightful and engaging session with each workshop he gives. A true inheritor of the legacy of Marshall McLuhan, Fialka manages to take his workshop audience into the real media, the human medium, where the effects of media and media technologies are no longer a given but an eye-opening challenge to re-see the world around us. Like the great contributions of the Russian formalists, Fialka makes strange the everyday media environment that surrounds us like so much ocean and plucks us out squirming and astonished at what it means to view that environment with fresh eyes. Next time you sit down to a numbing hour of broadcast television, get up and head to a Fialka workshop where your mind will be put to real work." - Roy Parkhurst, New Zealand's Massey University Film & New Media Professor


"Fialka is a Zen master of media shuffling your mind with McLuhanisms, and stacking the deck with fresh insights into our culture."
- David Selsky, Independent Film Programmer & author of 'Worlds of Silence'
"Fialka's workshops are in depth communication of something extremely elusive - the history of the unimaginable - and his lively interpretation renders it useful." - William Farley, Award-winning filmmaker
"Gerry Fialka asks unexpected Questions about important Ideas, eliciting Answers that can surprise even those doing the answering. My Interview with him taught me something about myself; it was a Gift." - David Gatten, acclaimed experimental filmmaker

"Fialka's cool questions are right at the heart of all my work. By far the best interview I have ever been treated to." - Ondi Timoner, only two time Sundance Grand Jury winner.

"Gerry Fialka's lecture on 'The Art of Fakery in Experimental & Documentary Filmmaking' passionately explores the art and science of media/ted truth in popular culture by way of the historical and contemporary, independent underground. With the evil brilliance of a mad scientist, the sly showmanship of a carnival barker, and the radical politics of a media ecologist, Gerry both disarms and re-stocks our psychic coffers with weapons for our culture's war against the imagination.
"From the outset, Gerry's presentation embodied the very substance of his thesis; that filmmakers are essentially fakirs, performing feats of endurance & magic through embracing contradictions. In deference to Goddard's quote that, "All fiction films are documentaries of actors acting," Fialka introduced his self-acknowledged 'playshop' by humbly stating, "A professor is someone who speaks to other people in their sleep." He then nimbly and skillfully skewered this 'ironic truism' with his playful intelligence, acerbic wit, and frequent round robin quizzing of those in attendance.
"Unfailingly optimistic in an age when truth in the media is increasingly less than self-evident, Gerry copiously cited constructive quotes from Marshall McLuhan to Picasso to John Cage to TS Elliot (amongst so many others). I particularly appreciated the pointed hilarity of his wordplay; "'Diaper' is 'repaid' backwards" as a precursor to his higher ethos that, "Life is lived forwards, but understood backwards." Words to measure truth by, if ever." -Ken Paul Rosenthal, Filmmaker & Instructor, Academy of Art University, City College of San Francisco
"I have attended several of Gerry Fialka's workshops in Ann Arbor. He is willing to enter in new discussions even if they go against his current views. Fialka's multilayered delivery of ideas encourages the search for new questions and new paradigms that extend beyond. He is well-informed, off-beat and articulate - one of the most fascinating people I've met." - Keith Jeffries, Ascalon Films
"Gerry Fialka is the Studs Turkel of Venice, California - nurturing active participation for common ground." - Michelle Raven, writer/producer, Discovery Channel
"Thanks to Fialka, an exemplary devotee of cinema...LA gets to see material we wouldn't otherwise." - Independent Film & Video Monthly
SINCE 1990 FIALKA HAS CURATED PXL THIS, the second oldest film festival in LA:
"PXL THIS has it all, underscoring Fialka's obsession with showcasing a vast array of sensibilities, without concern for the rigid boundaries (and unconscious censorship) of conventional programming." - LA Weekly
"Fialka deserves credit for his unflagging belief in the potential of the PXL camera to render something amazing."- LA Weekly
"Venice-based artist Gerry Fialka...seems to yearn for the low-res in art--and in life--and its ability to spark clarity despite, or because of, reduced visibility." - LA Weekly
"Fialka's pxl short ''Alfred Shoots Adolph' (
http://www.youtube.com/watch? v=aMh1uojw_4M
), a single take portrait of a Jew who faced Hitler as a teenager and with only a Leica, is strangely powerful." - Holly Willis, editor,
RES Magazine

Gerry Fialka lectures world-wide on experimental film, avant garde art and subversive social media. Fialka's films have screened world-wide at film festivals, art museums and galleries. Fialka ran the infamous Ann Arbor Film Co-op from 1972 to 1980. He has curated film screenings in LA since 1980 for his many series - Documental, 7 Dudley Cinema, Subversive Cinema and PXL THIS (second oldest film festival in LA), earning praise: "Gerry Fialka is Los Angeles' preeminent underground film curator." - Robin Menken, CinemaWithoutBorders.com. Fialka served on the AAFF Screening Committee from 1977 to 1980. He was the Ann Arbor 8mm Film Festival Director from 1977-80, and on the 8mm Screening Committee from 1975-80.
About the GENUINE FAKE FILMS:
EYE AM NOT A ROBOT
(2009, 14 minutes) - Mark X Farina & Gerry Fialka's scintillating film probes the percept of technology "being alive" by evoking early Russian film and Constructivism. Cultural icons from James Joyce to Robby the Robot to Marilyn Monroe are your humanoid guides through new art technologies. Can machines surpass humans in the creative process? How are robotics restructuring patterns of social interdependence in Art, Science and Nature? Cine-poets Farina & Fialka reframe our collective compliance in anthropomorphizing media as art forms. In the spirit of McLuhan's mosaic writing, this collage film propagates mythic thinking, in the Jungian sense, where people mime cues from technology used by millions. By flipping the art museum video installation experience into media yoga, one can download morphic resonance into the nervous system as a Zen experiment. What is the future of art and artificial intelligence? See the likeness & difference in Anticipatory Mindfulness and Android Meme. Summon the impossible by examining what Derrida calls "the absence of presence." "The future of the future is the present." - McLuhan. "I wouldn't be seen dead with a living work of art." - Museum curator.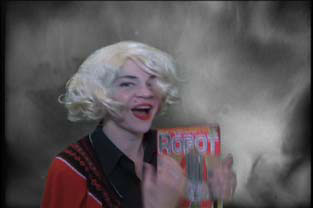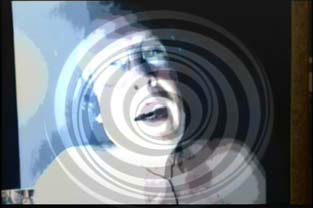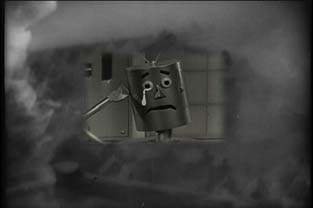 ------------------------------
------------------------------
------------------------------
------------------------------
------------------------------
--------------------------
ALL ADVERTISING ADVERTISES ADVERTISING
(2008, 14 minutes) Farina & Fialka's vibrant film uncovers the hidden effects of advertisers as psychoanalysts and prophets in the science of the imaginary. Rube Goldbergian filmmakers Farina & Fialka satirize the adman's credo "create the disease and offer the cure." They look through ads like portals (port holes) unto a universe of media mindscapes and nuance. They question the simultaneity of great ads as myth. Fialka & Farina fuse an interpretive parable about the Wizard of Oz (Us) and the percepts of Marshall McLuhan to transform the very subject they are examining. Journey into familiarizing the ordinary. How are we immune to ads? Why? What are the critical connections between the rise of consumerism and our blind commitment to economic growth? "You can tell the ideals of a nation by its advertisements. " -Norman Douglas.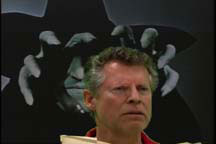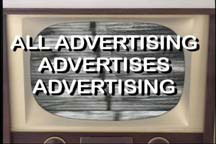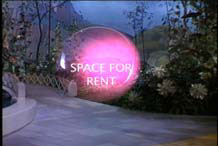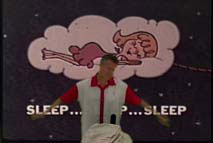 ------------------------------
------------------------------
------------------------------
------------------------------
------------------------------
------------
DOUBLE-DUTY INTERROBANG (2003, 10 minutes) Fialka's pixelvision (Fischer Price toy video camera) short hoicks the "open past" while double delving into Giordano Bruno's theory that everything in nature is realized through interaction with its opposite and Marshall McLuhan's percept that "objects are unobservable, only relationships among objects are observable" simultaneously probing the option of "see-say" in moving pictures. "Do you hear what I'm seeing?" Examine McLuhan's main archivist Robert Dobbs as he reswindles Menippean memory with the new interrobang punctuation.

------------------------------ ------------------------------ ------------------------------ ------------------------------ ------------------------------ --------------------------

PLUS excerpts from:
JAM Z JAMMERZ: SEE, REAPPEAR & BREATHE
(2007, 14 minutes) - As agitprop archaeologists, Mark X Farina & Gerry Fialka's provocative film probes how the 50's music/comedy icons John Cage (noise as music, side effects in silence), Korla Pandit (the Hammond Organ as drum, fake identity), Lenny Bruce (speech as jazz, grievance), Ernie Kovacs (visual effects as Surrealism, Mennipean tactic of the "fourth wall") and Lord Buckley (narrative as living organism, elevation not put-down) laid the groundwork for contemporary culture jammers. They reinvented Beckett's "Nothing is funnier than unhappiness," and Steve Allen's "Behind every joke there's a grievance." Their reappearance offers new questions: Did the electric environment kill or save humanity? Did television renew the art museum? Why did James Joyce make TV the hidden ground in his 1939 book FINNEGANS WAKE? Can the banality of satellite-speed-up cause epiphanies? What have we forgotten about social amnesia? Who is jamming the jammers? Re-channeling George Melies and Marcel Duchamp, JAM Z JAMMERS reinvigorates and mirrors how these visionaries elevated self-irony to uncover the ambiguity and complexity of ecstasy and numbness. "The audience is the employer." - Marshall McLuhan. "I find TV very educational. Every time someone turns on a set I go in the other room and read a book." - Grouch Marx. "When you are laughing, you're learning." - Robert Dobbs. "Satire is tragedy plus time" - Lenny Bruce.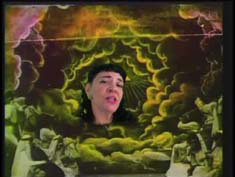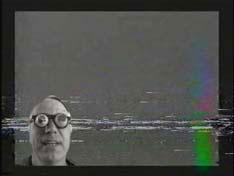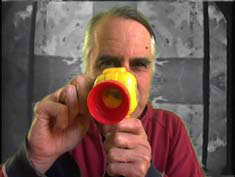 ------------------------------
------------------------------
------------------------------
------------------------------
-----------------------
OUR EYE AYE (RIA= Resonant Interval Algorythmns) (2012, 3 minutes) - Social engineers Will Erokan & Gerry Fialka probe the filmed close-up on the human eye, as seen in Un Chien Andalou, Man With The Movie Camera, Frank Zappa's 200 Motels, and Blade Runner. Delve deep into the reel motives and consequences of the Ludovico treatment from A Clockwork Orange, which originated in the novel by Anthony Burgess, who was directly influenced by James Joyce's Finnegans Wake. The Wake turns the eye into an ear via Finneganese (language about language): "Television kills telephony in Brothers' broil. Our eyes demand their turn. Let them be seen." and "what can't be coded can be decorded if an ear aye seize what no eye ere grieved fore." Experience the Erokan-Fialka "live cinema" immersion into post-hypnotic hyper-maximum stimulation triggering McLuhan's Menippean satirized Gesamtkunstwerk. Peter Greenaway presaged the complex clairvoyance of Erokan's birth on September 30, 1983 by declaring "Cinema's death date was 31 September 1983, when the remote-control zapper was introduced to the living room, because now cinema has to be interactive, multi-media art." The retrocausality of this non-existent date renders an effects-precede-causes half- truth. "A half truth is still alot of a truth" - McLuhan
Director's Statement
Gerry Fialka explores the hidden psyche effects of human inventions. We look to the artists, the antennae of the race, to uncover these hidden environments. But why do we ignore them? His director statement encourages folks to use Marshall McLuhan's Tetrad, four questions one can apply to media: 1) What does it enhance or intensify? 2) What does it render obsolete or replace? 3) What does it bring back that was previously obsolesced? 4) What does it become when pressed to an extreme, what does it flip into? McLuhan defined "media" and "technology" as anything humans invent from clothing to computers, from language to philosophy, from toothpicks to cell phones.
His motives may also include:
* to find epiphanies in everydayness,
* to satirize info overload,
* to invent new questions, new metaphors: "Brother, can you paradigm?"
* to reinvent James Joyce's "laughtears" and "feelful thinkamalinks,"
* to make people freer as Vito Acconci articulated in Financial Times 11-17-12.
* to struggle with "don't tell anyone everything you know" - something Bob Dylan learned from the Bible
* to re imagine "ESP is old hat when effects precede causes" - McLuhan - Take Today: The Executive As Dropout 1972
* to contradict myself as not to conform to my own ideas - Duchamp
* to answer questions like John Cage: "that's a very good question, I would not like to ruin it with an answer."
* to survey the hidden psyche effects of sense-ratio-shifting and the non-physical


SPECIAL THANKS to Fialka's collaborators: Mark X Farina, Suzy Williams, Robert Dobbs, Will Erokan
About the Guest
GERRY FIALKA - Paramedia Ecologist, Genuine Fake Filmmaker, Reality Performance Artist
Fialka-curated film series:
About the Moderator
DAVID E. JAMES, Chair/Professor of Critical Studies, USC School of Cinematic Arts
Taking any of David James' courses including History of the International Cinema and Cultural Theory, students have the distinction of learning from a professor who has achieved particular renown as an authority in Asian cinema and avant-garde cinema.
Dr. James has expanded and enriched the cultural scene in Los Angeles, curated countless film programs, worked on museum exhibitions, produced his own film work and published extensively in the arts and popular press, including his latest book The Most Typical Avant-Garde: History and Geography of Minor Cinemas in Los Angeles.
James' awards include an NEH Fellowship for College Teachers, the Rockefeller Foundation Fellowship in the Humanities at the Whitney Museum of American Art, and the USC Associates Award for Creativity in Research.
He is the editor of To Free the Cinema: Jonas Mekas and the New York Underground as well as The Hidden Foundation: Cinema and the Question of Class, and has served on the editorial boards of Quarterly Review of Film and Video, Now Time, and Art Week.
Recent Press Links
Spring 2011 - McLuhan & WikiLeaks: 'Hoedown' and 'Hendiadys'
About Cinematheque108
Cinematheque108 is an alternative screening series sponsored by the Critical Studies Department at the University of Southern California's School of Cinematic Arts. The series offers a rare selection of events that highlight noteworthy experimental, documentary, and/or foreign films, many of which can not be seen anywhere else. Cinematheque108 is an educational forum that aims to expand understanding of alternative film and media. All screenings are free of charge and open to the pubic.
About Parking
The USC School of Cinematic Arts is located at 900 W. 34th St., Los Angeles, CA 90007. Parking passes may be purchased for $10.00 at USC Entrance Gate #5, located at the intersection of W. Jefferson Blvd. & McClintock Avenue. We recommend parking in outdoor Lot M or V, or Parking Structure D, at the far end of 34th Street. Please note that Parking Structure D cannot accommodate tall vehicles such as SUVs. Metered parking is also available along Jefferson Blvd.
Contact Information