Spread Compliments Day - every March 8 in honor of Dolores Fialka
My sister JANICE FIALKA suggested we declare our MOM's birthday, March 8, as SPREAD COMPLIMENTS DAY. So it is now official. Please honor this day every year by complimenting somebody, and include a hug, too.
I welcome your input.
Cheers,
Gerry Fialka
310-306-7330
PFSuzy@aol.com
LAUGHTEARS.com
Here's more -
1-
\What I said at MY MOM's wake service -
My heart is mourning but not my mind. I learned ALOT from MY MOM, especially that the best thing for a human being is ANOTHER human being. She named me after the patron saint of Mothers - St. Gerard. She spelled my name Gerald. That's why I have a G in the front of Gerry.

I will miss MY MOM, but her spirit and soul live well in my heart. She nurtured togetherness and always encouraged participation. So let us all take one BIG CONSCIOUS BREATH in together, one, two three, breathe in, and..........release.

MOM preached HUGGING as miracle medicine. SO please stand up and HUG the person next to you...in honor of Dolores. Tune up your immune system. This will carry vital supplies of oxygen to all organs of your body. These are lines from a favorite flyer that she circulated often.

We shared lots of quotes. Here's one I whispered to her a few days before she passed - "Yes Mother - I can see you are flawed. You have not hidden it. That is your greatest gift to me." - Alice Walker

MY MOM taught me how to turn a weakness into a strength, a breakdown into a breakthrough, a stumble into a dance, poison into medicine.

Some say she worried too much. Some even worried about her worrying. There's a fine line between worry and concern. Concern is caring, empathy, love.
Oscar Wilde said, "All women become like their mothers. That is their tragedy. No man does - that is his." NOT MINE ! I became MY MOM - some may say...a bossy, control freak who worries too much, or some may say...a compassionate community leader who is concerned about everybody. SO, like MY MOM, I understand that energy and turn it into concern - helping others.
Here's what MY MOM wrote in her recent journals. ( I show a sign with the words - TO WORRY DOES NO - KNOW GOOD AT ALL). The word NO has been crossed out, and replaced with the word KNOW, like a typo on purpose. She was subconsciously equating WORRY with KNOWING GOOD. It seems to me she was saying "Know what is good and share it."
My MOM shared with me the wisdom of a Greek philosopher: "People are not disturbed by things but by the view they take of them." Embrace duality. Embrace contradictions. Yin that yang.

One can find epiphanies in everydayness. I know (because of MY MOM) to CRY is OK, not only for emotional relief. It also removes bad toxins from your body via the tears.

In her nursing graduation book, she used the quote "Beware, I may do something sensational." She indeed did sensational, in so many ways. All the senses alive. The Tibetan Book of The Dead says the spirit lingers for three days. I can hear her saying to Al, "Put the thing on the thing." She is here with us.

Now let us express together as one living organism (one mind and one heart), through call & response, like the human microphone of the Occupy Movement. Repeat after me (I have noted the sources in this text, but I did not read them, to keep it flowing)

We die with the dying
See, they depart,
And we go with them
See, they return
and bring us with them ( - excerpt from TS Eliot, 4 Quartets)

I know nothing
I live in the Eternal (-George Santayna)

Question authority, But not your mother (- bumper sticker)

Live and Let Live (-Gandhi)

Always keep the door open.

Thank you Dolores

(Some additions I may have added)
God give me patience, and give it to me now (- ?)
It pays to worry.
90% of the things I worry about
never happen.
Worry keeps them away (-?)
***************************************************************
2-
My MOTHER, DOLORES FIALKA circulated this flyer for many years –

HUGGING CAN IMPROVE YOUR HEALTH.
JUST WHAT THE DOCTOR RECOMMENDED…
Hugging is a miracle medicine that can relieve many physical and emotional problems, experts say. Researchers have discovered that hugging can help you live longer, protect you against illness, cure depression and stress, strengthen family relationships and even help you sleep without pills. Hugging can lift depression – enabling the body's immune system to become tuned up.  Hugging breathes new life into a tired body and makes you feel younger and more vibrant. At home, daily hugging strengthens relationships and significantly reduces friction.

"Researchers discovered that when a person is touched, the amount of hemoglobin in their blood increases significantly," said Helen Colton, author of the book "Joy of Touching".  "Hemoglobin is a part of the blood that carries vital supplies of oxygen to all organs of the body – including the heart and brain.  An increase in hemoglobin tones up the whole body. helps prevent disease and speeds recovery from illness.  My fifteen years of research have convinced me that regular hugging can actually prolong life by curing harmful depression and stimulating a stronger will to live". 

The warm, meaningful embrace can have a very positive effect on people, particularly during times of widespread stress and tension like today. Hug your spouse, your children, close friends or relatives.  If you live alone the warm embrace with a friend whenever you meet is just as beneficial.  It's a marvelous way to improve the quality of your life.
++++++++++++++++++++
3-
Recollections of the day my Mom died - by Gerry Fialka
The day my MOM died, I went into the activities room where she and my Dad lived. I was checking my email there about 8pm, and there were 8 elder women talking about sex amongst other things. They asked out loud, "Is he listening?" I responded, "Yes. Let's have a discussion group. I host them often." They agreed, and we had a ball for 90 minutes. We even delved deeper two more times later in the week with lots of fun and enlightenment. One of my discussion groups is called MOM, standing for Meetings Of Minds (or McLuhan Or Marx, or Meditations On Media, or Mom, or ???). SO there I was hosting my first ALL WOMEN MOM GROUP the night my MOM passed. Her spirit was with us. My MOM and I honor the three American Zen sayings: 1- keep an open mind, 2- don't believe anything, 3- take nothing personal.

+++++++++++++++++++++++++

4-
FIALKA, DOLORES JANE "DEE" Flint Dolores Jane "Dee" Fialka, of Flint, age 89, died Thursday, June 12, 2014 at the home of her son, John Fialka surrounded by her family singing "You Are My Sunshine, My Only Sunshine." A "Celebration of Life" Service will be held 11am Sunday, June 15, 2014 at the Swartz Funeral Home, 1225 West Hill Road, Flint. Visitation Saturday 3-8pm with Reflections at 7pm. Visitation 10-11am Sunday at the funeral home prior to the "Celebration of Life" service. In lieu of flowers, contributions may be made to Flint Institute of Arts; Juvenile Diabetes Research Fund (JDRF); or TASH (an advocacy organization for people with disabilities). Dolores was born in Flint on March 8, 1925. She married Albert "Al" Fialka on September 11, 1948. Dolores attended Northern High School. She proudly received her nursing degree from St. Camillus School of Nursing at Nazareth College in Kalamazoo, MI. She went on to receive a Bachelor's Degree in Human Resources from The University of Detroit. She was a Registered Nurse (R.N.) and worked for 25 years with Dr. Arthur Tuuri, where she was known for her compassion and the dedication to children and families. Later she enjoyed teaching Medical Terminology and Medical Assistance at Mott Community College for over 10 years. Her passion to work with people continued in her volunteer work at a hospice program and at an elementary school reading to children. Mrs. Fialka had a lifelong love to learn and discover new ideas. She and her husband attended over 26 Elder Hostels and later became representative for these education opportunities. Mrs. Fialka enriched her life and those around her through her cooking, conversations and reading. One of her greatest joys was listening to her grandchildren share their lives. Family and friends loved watching her graceful dancing with her husband of 66 years. Mrs. Fialka was the cornerstone to keeping the family together by planning many celebrations. Her favorite quote was "Life is a process of growth and change." Surviving are loving husband, Albert "Al;" four children, Janice Fialka and husband Rich Feldman, Gerry and wife Suzy Williams, Nancy and husband Mike Chilcutt and John Fialka and partner, Donna Thomas;7 grandchildren, Micah, Emma, Leah, Kyle, Steven, Andrew and Alison; two sisters, Mary Ann Crossley, Joanne MacKinnon.She was preceded in death by her son, James; and two brothers, Donald and Charles Lefanowicz. Your reflections and stories about Dolores may be shared with the family at swartzfuneralhomeinc.com - See more at: http://obits.mlive.com/obituaries/flint/obituary.aspx?n=dolores-fialka-dee&pid=171331768&fhid=4727#sthash.3Y2zGPIe.dpuf
5- One of Dolores's Favorite Poems
Worry does no good at all but does a lot of harm.
It puts lines across your face and dissipates your charm. Whatever is to be will be that worry cannot change.
It only serves to dim your life and all your fears increase. So cast away those worry thoughts and bid your dark fears flee.
Live in life of faith and love, joyful and worry free!

Thank you for joining us today to honor a woman who truly
enjoyed bringing joy to others. She wanted everyone to feel special, to be noticed, to matter. She knew that everyone had a gift and she
was often the first to notice it and celebrate it. We invite you to continue Dolores's legacy by seeing the gifts in others.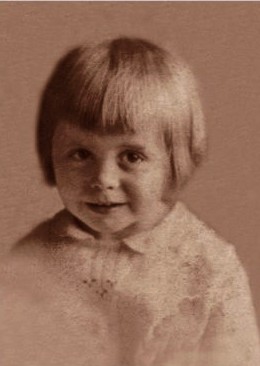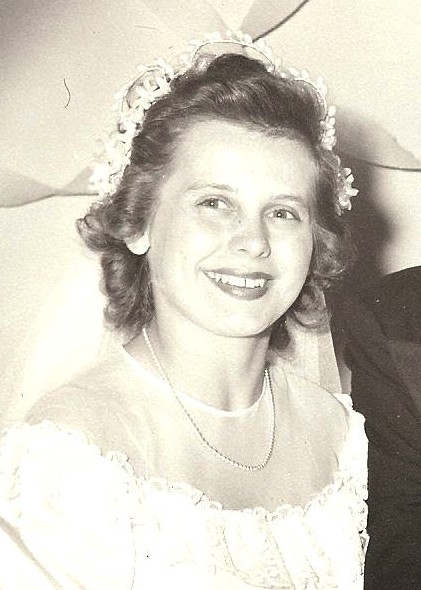 Dolores "Dee" Jane Fialka March 8, 1925 - June 12, 2014
Dolores & Al – Our 50th Wedding Anniversary
-Written from the heart, by Dolores Fialka

I woke up this morning with my heart full of glee My body was aching, but my heart was filled with excitement And appreciate of my family.
I looked out the window of the beautiful scene And I saw mountains and flowers – all the things that Nature and God has provided to make one perfect scene.
Then I thought of my family, my children, my grandchildren My son-in-laws, my daughter-in-law And I thought what a beautiful scene they created in my Heart and soul.
Yea, they are all different, like the birds, and bees and flowers Yet together, they make perfect harmony All the personalities, attitudes and attributes are going together
What they create is how to adjust to society And show love to all I saw this in the decorations that they made I saw this in the planning that they did.
What did the older ones do for the younger ones They provided a basis of tolerance, loving differences. And showing unconditional love This makes my heart full of glee and joy
I looked out the window again and thought
What a wonderful example of perfect harmony.

A Joyous Celebration of Dolores Fialka
Swartz Funeral Home – Flint, Michigan
June 15, 2014 Opening Prayer Albert Fialka, husband Welcoming Rev. Penny Hackett-Evans Family Reflections Janice Fialka, daughter Nancy Chilcutt, daughter Gerry Fialka, son Donna Thomas, partner of son, John Fialka Grandchildren Micah, Kyle, Emma, Leah, Reflections Alison, Andrew, & Steven Song: I'll be seeing you Sung by Suzy Williams, daughter-in-law Closing Thoughts Rev. Penny Hackett-Evans Song: Amazing Grace Led by Samantha Sinai